Host Family Accommodation
Quality, Friendly, Welcoming Families  all within Walking Distance of our School


We Guarantee only One Nationality with each Host Family , Most Families Host Two Students


Adult & Junior Student Accoomodation within Host Families available all year round


Year Round Host Family Co-Ordinator ensuring Quality and Host Family Charter in Place
Quality Home Stays with The Irish College of English. Friendly and welcoming Irish Host Families with Comfortable rooms within walking distance of our English Schools.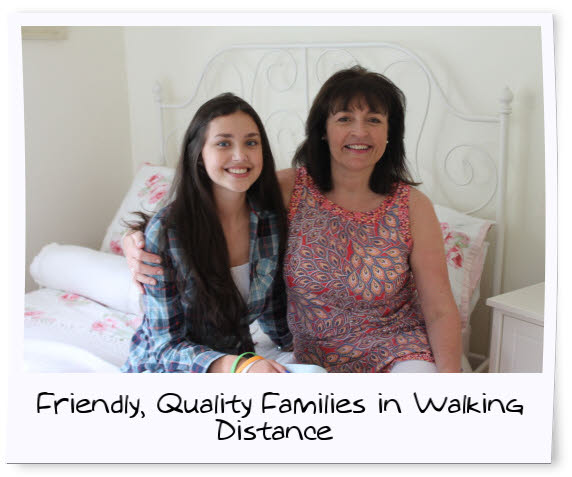 Host Family Accommodation is arranged for students who wish to live with an Irish Family for a Truly Linguistic Stay in Ireland. Irish people have a tradition of hospitality and warmth. This tradition is renowned all over the world and has been a major factor in attracting thousands of students to study English in Ireland.
Quality Accommodation is a key focus at the Irish College of English. Our locations are excellent and Malahide is one of Dublin's most prestigious areas to live, making us an ideal choice for Homestay Accommodation. We only use host family accommodation within walking distance of our schools, and as we operate all year round, we Build Strong Relationships with the Community and with all our host families.
We have a full time member of staff dedicated to visiting and ensuring the quality of our home stays. Student Welfare is our Main Concern and we choose our families very carefully to ensure maximum comfort. In addition we have a Home Stay Charter in place which clearly sets out standards and our policies concerning all home stays. Students may be placed with other International Students thus developing new friendships with young people from all over the world. We can guarantee students an excellent host family stay and our student feedback attests to this.
Full board is provided with Breakfast, Packed Lunch and an Evening Meal with an emphasis on a nutritious diet. Students become members of the family for the duration of their stay and fit into normal family life, socialising and eating with the family.
'A home from home'
A typical day with a host family of a Student
Students are woken by their host mum, have a shower and eat breakfast.

Students are given a packed lunch for the day.

Students walk to school and return home at about 6 pm after their tuition and activity programme.

On returning home, students have dinner with their host family and chat about what happened that day.

Students may spend the evening relaxing and chatting with the family or meet up with friends in the locality.

Juniors have a strict curfew of 9.30pm which applies when all students must be home.


Juniors and families have 24 hour access to an emergency phone number and a member of our team is always on duty to help.
Our Host Family Feedback
I have a very very good host family. They are all the time happy. Every night we go to the park. They are very gentle. There house is beautiful. I love my host family.
Lea, Germany 2016 
I think is the best family that you can be. They are really opened to talk, they are really funny. Loraine is a good person that always is looking after the children like Cody, the Chinese boy in the house that only is 11 years old. I recommend this family. They are fantastic, I love them!
Alvaro, Spain 2016
The best family I could ever have. With a son that is the same old as me. Very kind and the house is beautiful and the distance from the school is not so much. Well done!
Emanuele, Italy 2016
They are incredible! I love them! It has been my first host family and if I come back I want to stay with them. The first days you're shy, like always because you are like a stranger but since the first day that you arrive they treat you like another member of the family. The first week is the most difficult one, but after that you feel that you are from the family and you don't think, you only speak in English. They are always asking how are you, what have you done, if you want more… Remember! My host family is the best! My first time and it has been incredible!
Noelia, Spain 2016
It's a good host family, I have been very well with them. They are very kind and friendly. They've been looking after me very well. I love the food that they do. They speak with me every day and I can trust with them. I've got the best experience in their house. They are the best.
Sara, France 2016
The family was a really nice one. They have always taken care of me. I have learned many new things with them because they've tried to help me when I got stocked speaking English and they've thought me thing of the Irish culture. So I've enjoyed this trip a lot.
Sergi, Ukraine 2016
I love my host family. That's why this year is my second year here. I love their 3 daughters and their dog.
Elena, Italy 2014
This is the best host family ever! They are very kind, and I had never be disappointed. They take care of us like if we were their children. And food is so good. This is a lovely family. I want to come back to see them again.
Mathilde, France 2014
I could not have asked for anything better. I love my host family, they talk with me all the time, they give me what I need and they are very friendly. The house is always clean and the food is so good. I've enjoyed all my time in the host family.
Teresa, Spain 2014
I have a great experience in the course. Thank you very much. Teachers were very good. They are the best. Exercises were brilliant.
Liliya, Russian 2012
Our activity programme was very good because every day we go in different place for example GAA Stadium, play games, tennis, golf, football, shopping, etc.
Filippo, Italian 2013
I love this family. They are very, very, very friendly, nicely good people. My bedroom is very big. I don't want to return home, because I prefer to stay here with my Irish family. I love my host mum's dinner. I want to repeat the next year with this family because they are the best. I want to say thanks for all they did for me.
Nerea, Spain 2012
My family was the best I've ever had in all my school trips or camps. So thank you very, very, very much. I really enjoyed my stay with you!
Mathilde,  France 2013
My host family is very very very very good! Their house is fantastic and they are too! They are very friendly and nice!
Giorgia, Italy 2013
They are not my host family, they are my real family!
Abdulrahman, Saudi Arabia 2012
It was the best family and house in Ireland. All the family were so kind and friendly to me. The view from the second floor is very nice. I want to thank everybody there.
Takuma, Japan 2011
Irish College of English School Brochure 2017
Junior Summer Camp Booking Form 2017  
Homestay Ireland and other options – For Residential or Hotel accommodation please contact us