Tennis and English Camp Overview – Malahide Centre
Junior Summer Camp Brochure 2017
Junior Summer Camp Booking Form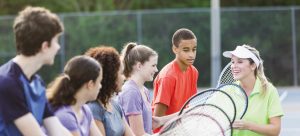 The Irish College of English has been running Youth Programmes for over 25 years and has an International Reputation for Quality Programmes. In addition to our Classic and Intensive English & Cultural Programmes, we offer alternative options in our English & Sports Camps. Our Tennis and English Language Camp combines 15 hours English Language tuition in the mornings and Tennis Instruction and play in the afternoons. In addition, students have Two Cultural Trips Per Week. This programme is the ideal way for students to fully immerse themselves in the language by and meeting new friends while improving their sports' skill.
We run our Tennis and English Language Programme from our Malahide Branch. We use Local Quality Tennis Facilities, with qualified professional tennis instructors. Students are Divided into Groups of 8 Students based on Level and therefore receive individual instruction. In addition to English language tuition, we offer students a range of cultural and recreational activities. These include trips to Guinness Storehouse, Trinity College, Kilmainham Gaol etc.
Location, Malahide, Dublin
Voted one of Ireland's most beautiful towns, Malahide is an ideal location. It is an affluent residential area of Dublin with a very high standard of living. It is on the Dublin Coast line and has many famous tourist attractions – Malahide Castle & Park, Malahide Village, Malahide Marina & Coast. As a small, safe suburb of Dublin it is an ideal location for juniors. It also has Excellent Transport Links to Dublin City Centre (20 minutes by train), 10 minutes to Dublin Airport.
 
Programme Timetable – 31st July – 26th August 2017
15 hours Tuition per week Mon – Fri 08.45am – 12.00pm

12 Hours Tennis per week Mon – Thurs 1.00pm – 4.00pm

1 Half-Day Cultural Activity per week

1 Full Day Saturday Excursion per week

4 Optional Evening Activity per week
Programme Fees:
2 Weeks: € 1210
3 Weeks € 1830
4 Weeks € 2360
*Full Board Host Family Accommodation additional € 200 per week
*Professional Airport Transfers Operated by a member of our staff – € 45 each way

All Inclusive Programme:
Assessment on Arrival, Registration & Administration
15 Hours Tuition per Week (Max of 15 Students per Class)
12 Hours Tennis per Week
Irish Leader To Accompany Groups on all Activities
Quality Host Family Accommodation within Walking Distance
One Nationality per Host Family Guaranteed unless otherwise requested
All Course Materials and use of Student Textbook
Student Exit Report & Graded Certificate of Attainment
1 Half Day Activity, 1 Full Day Excursion outside Dublin
Unlimited Bus/Rail Pass and All Entrance Fees Included
4 Optional Free Evening Activities per week
No Hidden Costs
Quality Host Family Accommodation
We guarantee one nationality per host family unless otherwise requested, the majority of host families have take 1 – 3 students at any time. If you have special requests regarding host family accommodation we are happy to try to meet these requirements. All host family accommodation is within walking distance of our school and vetted by our Staff.
'A home from home' A typical day with a Host Family


Students are woken by their host mum, have a shower and eat breakfast

Students are given a packed lunch for the day

Students walk to school and return home at about 6 pm after their tuition and activity programme

On returning home, students have dinner with their host family and chat about what happened that day

Students may spend the evening relaxing and chatting with the family or friends or attend an organised evening activity (4 evenings per week)

A strict curfew of 9.30pm applies when all students must be home

Students and families have 24 hour access to an emergency phone number and a member of our team is always on duty to help
View Feedback Junior Summer Camp Feedback  2011 – 2016