School Groups & Mini-Stays
School Groups & Mini-Stays Brochure
English Programmes with Home Stay and Residential Accommodation
Group sizes are Min 15 Students Max 120 Students

Low Season Rates apply September – Mid June

1 Free Leader per every 15 Students – Free Executive Single Room Host Family Full Board Accommodation

Range of Programmes Available from 3 days to 4 week stays

Specialist Syllabus Design to meet your Group needs

Wide Range of Activities including entrance fees and bus & rail pass

School Overview
At the Irish College of English, we cater for specific High School Group Study Stays and their needs in developing short tailored group English programmes to suit different types of English learners and different budgets. As a smaller school, with very well qualified staff, we have the expertise and adaptability to design a variety of programmes. We encourage adult, junior and High School Group Study Stays to come to Ireland during the low season Sept – Mid June and can offer very competitive rates. We already have a number of state schools, private schools, third level colleges and language Institutes abroad that send us groups on a continuous basis and our student/leader feedback is excellent – see our Letters of recommendation.
Location, Malahide, Dublin
Voted one of Ireland's most beautiful towns, Malahide is an ideal location. It is an affluent residential area of Dublin with a very high standard of living. It is on the Dublin Coast line and has many famous tourist attractions – Malahide Castle & Park, Malahide Village, Malahide Marina & Coast. As a small, safe suburb of Dublin it is an ideal location for juniors. It also has Excellent Transport Links to Dublin City Centre (20 minutes by train), 10 minutes to Dublin Airport. Click here to see more on Malahide. Malahide is an ideal destination for High School Group Study Stays at any time of the year.
Promotional Resources
We are here to support you promote the programme to students and parents. We can post you Brochures, School DVD and other Materials, and email you High Resolution Promotional Photos to help you promote our High School Group Study Stays.
Our School videos can be used to promote your group tour to potential parents and give them an impression of our school.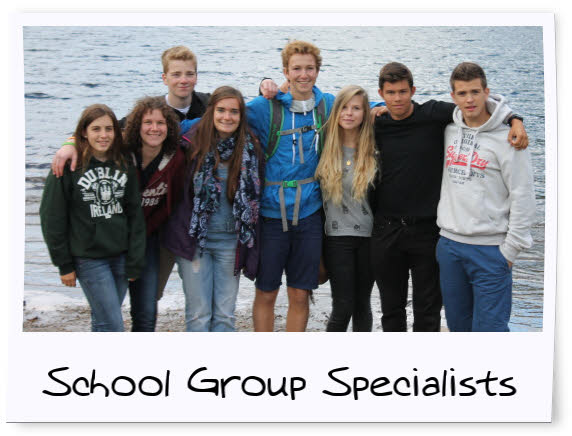 'A home from home' A typical day with a Host Family
Students are woken by their host mum, have a shower and eat breakfast
Students are given a packed lunch for the day
Students walk to school and return home at about 6 pm after their tuition and activity programme
On returning home, students have dinner with their host family and chat about what happened that day
Students may spend the evening relaxing and chatting with the family or meet up with friends in the locality
A strict curfew of 9.30pm applies when all students must be home
Students and families have 24 hour access to an emergency phone number and a member of our team is always on duty to help

Group Programmes Include:
15 / 20 /25 Hours Tuition per Week focusing on English Fluency / Literature / Culture / History / Exam Preparation / Project Work etc
Programme Designed to meet Learner Needs from Beginners to Bilingual Level Learners
Full Board Accommodation with Quality Irish Families all within walking distance of the School
Airport Transfers (we are just 10 minutes from Dublin Airport)
Maximum of 15 Students per Class (closed / international groups available depending on season)
Assessment on Arrival, Certificate of Attainment and Individual Student Exit Report on completion of course
Cultural & Social Programme of Activities to suit group Needs and Budgets
Bus /Train Pass (allowing students free use of Dublin Bus/Dart)
No hidden costs
Sample High School Group Study Stays Syllabus:

English Fluency Classes with a Cultural Element – Our Classic Programme offering the right balance of English fluency & Irish Culture for a rewarding stay
Irish Literature & History/Cultural Programmes for Advanced / Bilingual Learners
This programme is an intensive cultural programme aimed at high level students of English who are motivated to study English/Irish Literature & Culture
Exam Preparation (PET, FCE, CAE, CPE, IELTS, BEC)
This Intensive programme prepares Students to sit and pass International Exams.
Conversation/Speaking – Fluency Training Programme
This programme is aimed at students, who have good writing, reading and grammar ability but have had little opportunity to perfect their fluency in English.
Phonetic Programmes for High School Group Study Stays
This programme is suited to all levels of learner and covers an essential part of English that will lead students to greater fluency.
Phonetic (TEFL) for Non-Native Teachers of English for Institutions
This programme is aimed at teachers of English who want to perfect their own intonation/pronunciation and learn the best ways to teach their own students through the use of Phonetics.
Over 50's Cultural Programme for Mature Students
This Programme is aimed at older students wishing to improve their English, see Ireland and learn about the culture.