Irish College of English y Beyond Fluent han diseñado un innovador sistema de aprendizaje en línea para dar a nuestros clientes la fluidez y la confianza de un hablante de Inglés nativo. Desde ICE, creemos en la eliminación de las barreras comunicativas del inglés para asegurarnos de que están alcanzando su máximo potencial.
Adult Online English Lessons
Unirse a Clases de Inglés Online Grupales
Beyond Fluent in conjunction with the Irish College of English are offering Online Adult International English Courses.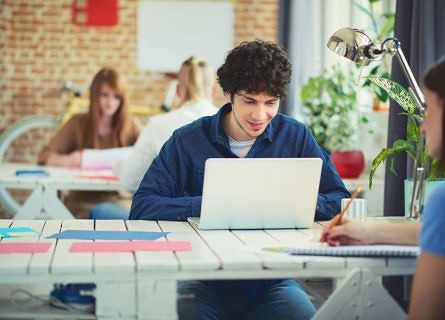 Clases Particulares de Inglés Online
This system is ideal if you are not located in Dublin or if you prefer to be able to have one to one English classes from your desk, your own home, or while working outside the office.
Junior Online English Lessons
Campamentos virtuales de verano para juniors en junio, julio y agosto
Irish College of English ha estado liderando en campamentos de inglés durante los últimos 28 años. Beyond Fluent es un sistema que ofrece campamentos virtuales con la filosofía y metodología del Irish College of English donde los estudiantes pueden disfrutar del inglés en un entorno natural, internacional, divertido e interactivo desde sus propios hogares durante todo el año. Los estudiantes disponen de nuestros amplios conocimientos en el aprendizaje del inglés, materiales y sobre todo nuestros profesores y adolescentes irlandeses en clases interactivas.
Clases Particulares Online
One to one English lessons with Beyond Fluent teens are second-to-none! Teenagers will be matched with our most dynamic teachers with a real love for teaching languages which will help unleash the inner linguist in them. Each one of our fresh, interactive English lessons aim to inspire and engage teenage learners of English and activate their interest and motivation. Lessons are adapted to the needs and wants of the teenager so they can progress at their own pace and with confidence.