Intensive & Cambridge Programme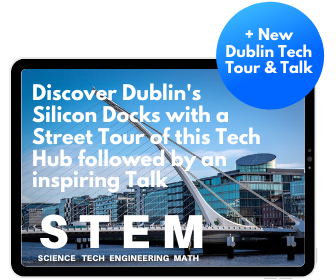 Your Fluency Starts Here!
Our Intensive Programme offers 20 full hours of tuition per week, including 5 hours of Cambridge Exam preparation sessions. This programme is perfect for students who would like extra English tuition or are interested in preparing for or sitting one of the Cambridge exams. We offer Cambridge lessons at PET, FCE and CAE level.
Perfect Location
The Irish College of English has been in the heart of Malahide for over 25 years. Situated on Dublin's coastline, Malahide's many attractions include Malahide Castle, our beautiful seaside village, Malahide Marina and coastal walks. Our location offers students the best possible experience of Dublin. Students enjoy Dublin city's highlights while living in a safe residential area. Uniquely, our juniors can all walk to school.
Host Families in Walking Distance
All our students stay in carefully selected families in Portmarnock (neighbouring town to Malahide) and all students can walk to school in Malahide. Our families are the highlight of the experience and our quality assurance procedures ensure great stays for all our students.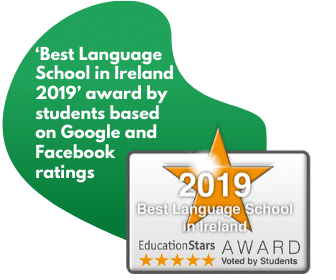 Award Winning School
We were delighted to be voted 'Best Language School in Ireland 2019' by students based on Google and Facebook ratings. Uniquely, this Education Stars Award is based on student ratings only. We were also shortlisted for 'Best Language School' in The Irish Education Awards 2020. In addition we were the First language School in Ireland to be ever shortlisted for the Study Travel Magazine Star Awards – Junior Course Under 18's Global Industry Award in 2015 and were again shortlisted in 2016. 2017 and 2019. We were also shortlisted for English Language School Europe in 2017 and 2019.
We were honoured by Malahide Chamber of Commerce in 2014 with the 'Service Excellence Award' for a clear demonstration of excellent and consistent customer service and in 2016 with the 'Organisation of the Year' Award.
Summer 2021 and Covid 19
Our Summer Camps will go ahead in 2021 with enhanced safety and cleaning protocols to ensure we follows all guideline surrounding Covid 19. We hope by next summer the Pandemic will be under control and teenagers can once again take part in Educational camps abroad and continue their English language path to fluency.
We are also have a '2021 Book with Confidence Guarantee' that allows individuals and groups travelling to Ireland, to cancel free of charge until 7 days before arrival. If you need to cancel within 7 days of arrival we will offer a free postponement of course which will be valid until the end of 2022.
A Breath of Fresh Air
Our Malahide Location allows students enjoy the benefits of seeing the highlights of Dublin, but living in a quieter area which is less populated and benefits from 'A breath of Fresh Air'. Our Dublin Coastal Town Location of Malahide, is ideal as a safe place with easy reach of Dublin, , offering parents and students peace of mind.
Junior Photo Gallery

Sample Timetable
20 hours English Tuition per week: Mon, Tues, Thurs, Fri 8.45am – 1.30pm  and Wed 8.45am – 11.00am
Packed Lunch at School: 1.00pm – 1.30pm
5 Half-Day Activities per week: 1.30pm – 5.00pm
1 Full Day Saturday Excursion Outside of Dublin
Sunday is a Free Day to relax with the family or meet with friends
2 Free Optional Evening Activities Including Disco and Movie Night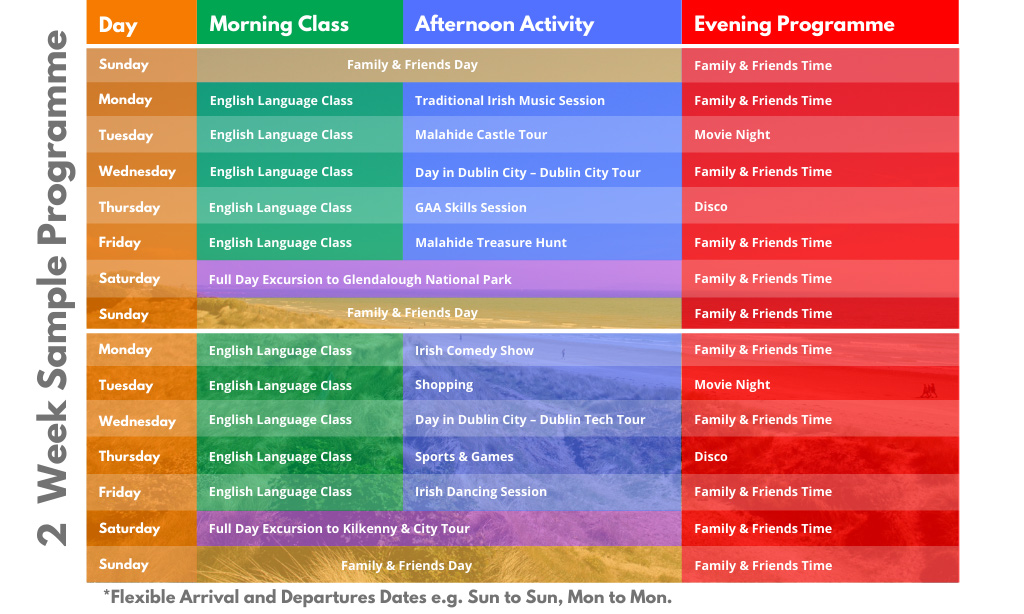 What's included?
All Inclusive
We believe in offering an all inclusive course price. Everything is included, there are no extra charges for registration or administration. All activities, travel passes, entrance fees and meals are included.
Tuition
We have a specially designed Junior Syllabus to encourage your child's progression and confidence. We believe in real materials and growing to love the language by living it. Classes are international and have a maximum of 15 students per class. 20 full hours tuition per week and use of text book is included (Classes 8.45am – 1pm each day with a 15 minute break).
Intercultural Irish Teenage Programme
As part of our continuous efforts to maintain high quality classes and to enhance our student's intercultural experience, we have weekly lessons called the Intercultural Teenage Programme.  Irish, teenage students will join lessons to lead an exercise alongside teacher which allows our students the opportunity to connect with Irish teenagers, their peers and we have had an incredibly positive response to this programme.
Accommodation
All our accommodation is in homestays in Portmarnock in walking distance of our school in Malahide. We guarantee one nationality per family unless friends wish to stay together. Our hosts typically take 2-3 students at a time with a maximum of 2 students per bedroom. Families will do student's laundry as part of their normal home routine. We carefully match students with families.
Meals
Families provide breakfast, packed lunch and evening meal. Meals are nutritious and we can cater for special diets on request. On arrival we also give students a welcome pack including a reusable water bottle and our school has a water refilling station.
Weekday Activities
Students have a full schedule from 8.45am – 5pm each day from Monday to Friday. Classes in the morning and activities & tours in the afternoon/evening. Students have an experienced Irish Leader with them on all activities. Our students go to Dublin city centre at least twice a week and have an engaging fun programme of tours, sports, shows and leisure activities.
Full Day Trips
Each Saturday our students have a full day trip to see the best of the surrounding areas. Sample Day Trips: Glendalough, Kilkenny, Belfast, Dublin Zoo.
Travel Pass
Students receive a Dublin Travel Pass for unlimited public transport for the duration of their stay, students use the travel pass for the activity programme and travel within Malahide.
Student Report & Certificate
Students receive a Certificate of Attendance and Attainment at the end of their course and also an individual hand written teacher report on their progress.
Programme Fees
2 Weeks : € 1650
3 Weeks: € 2440
4 Weeks: € 3220
Airport Transfers: € 50 each way
How to Book
Book Online now or fill out our Junior Summer Camp Booking Form or email us at info@iceireland.com.

Frequently Asked Questions
Students are woken by their host mum, have a shower and eat breakfast. Students are given a packed lunch for the day. Students walk to school and return home at about 6 pm after their tuition and activity programme. On returning home, students have dinner with their host family and chat about their day. Students may spend the evening relaxing with the family or friends or attend an organised evening activity (2 evenings per week). A strict curfew of 9.30pm applies when all students must be home on our English Summer Camps Ireland. Students and families have 24 hour access to an emergency phone number and a member of our team is always on duty to help.
At any one time we normally have between 15 and 27 nationalities represented at our school.
Are there any or additional extra costs and how much pocket money does a student need?
The programme is all inclusive with no extra costs. Most students bring between 60 and 100 euro pocket money per week for souvenirs, sweets etc.
How do I choose arrival and departure dates and times?
We base a 2 week stay on 14 nights accommodation, 3 weeks on 21 nights and 4 weeks on 28 nights. Most students arrive on a Sat or Sun and depart on the corresponding Sat or Sun but we are also happy for students to arrive and depart during the week. Should you require an extra night in the home stay a 32 euro additional fee applies. We are very flexible as to arrival/departure time so please book best available flights and we can organise airport transfers 24 hours a day with under age sign in should you require it.
How many students will be in a class?
There is a maximum of 15 students per class with on average 13 students per class
What qualifications do your teachers have?
All our teachers have a Bachelors Degree and a further Teaching English Qualification and all our teachers are recognised as qualified English Language Teachers under ACELS.
How do you place students into their correct English Level?
We test students on arrival and monitor their progress including weekly tests so students are able to move levels should we feel they are not in the correct level.
How many English Levels do you have ?
We have from A1 to C1 Levels .
A strict curfew of 9.30pm applies.
Do you have an emergency contact number and help available ?
Yes, we offer a 24 hour emergency contact number and are always available to help.
What happens the first day of school ?
Hosts will show students to school. On arrival they will be tested and given welcome information and shown to their correct level class.
Do you have any special offers or discounts?
Any current offers will be in our offers sections of our website.
Can you provide an invitation letter for visa purposes ?
Yes, we provide letters for all students coming from outside the EU who need a visa to enter Ireland.
Is there free wifi in the school and in the home stay?
Yes
A deposit of 200 euro on booking is paid. The remainder of fees are due 4 weeks pre arrival.
Deposits are non refundable, for cancellations made 21 days or more pre arrival , the remainder of fees will be refunded.
Is my child's Laundry done for them?
Yes typically once a week by the host
Will I receive a packing list?
Yes you will receive a pack list and student handbook pre arrival.
Can my child go alone to Dublin City Centre?
No, students are not allowed to leave Malahide/Portmarnock without written consent from their parents and we would advise parents not to encourage students travelling to Dublin City alone.
Does the price include the flights?
No, you will need to book your own flights
Are student on their own or in groups when they come to your school ?
Approximately half of our students are individuals and the other half come with organised groups. Individuals will all be together for afternoon activities and are separated by age so it is easy to make new friends.
Will you accept a 10 year old or an 18 year old?
No, our age range is from 11 to 17 years of age.
Will I receive an Information Pack pre arrival ?
Yes, all students and parents receive a Handbook and Packing List pre arrival.
When will I receive host family information and what will it be ?
You will receive your host family profile including a map of their location 3 weeks pre arrival.
Can I contact the family pre arrival?
Yes, their email address will be on their profile.
What If my child is unhappy with their host family or class or any aspect of their stay?
We are always here to help and will move a child to a new family or class and assist in whatever way we can to ensure your child is happy.
Will my child have unsupervised time?
Yes, on our homestay programmes students are often unsupervised e.g. going to and from school, in the evenings, during free time etc.
How does your airport transfer work for my child?
We have a member of our staff wait for your child at the airport with a sign. We also ensure we have your child's mobile number and they have our drivers number and also our emergency number in case of any delay etc.
Will you help my child with check in at the airport?
Yes, just request help on departure and our driver will help your child check in and bring them as far as security if you wish and there is no extra charge for this.
Can your sign my child in at departure with a unaccompanied minor service or complete the form of indemnity for Aerlingus, is there any extra cost?
Yes, we are happy to do any sign ins at no extra cost.
How do you choose and ensure the quality of your homestays?
All our hosts are from our locality with means they are all within walking distance of our school. This ensures they are members of the local community which we feel is very important. We visit all hosts and ensure they and their homes are suitable for hosting students. We also ensure all family members are garda vetted and continually monitor feedback to ensure we work only with welcoming caring hosts.
Will my child be sharing a room in the host family?
The majority of hosts have twin rooms but some have single rooms. You can request that your child shares with another child or if you prefer a single room you can also request this and we will do our best to accommodate these requests. Students share their room with a different nationality student of the same gender and similar age. Most families host 2 or 3 students at a time with a maximum of 2 students per room.
Will my child be staying with another student of the same nationality or same language?
No, we guarantee one nationality per house unless your child wishes to share with their friend.
Can I book stay an extra night?
Yes, an extra night is 32 euro.
How do the children go to and from their host family?
Student typically walk to and from school, all students live within a 30 minute walk. As students have a travel pass with most programmes they can also take a local bus for 1 or 2 stops if they prefer not to walk.
Are all the home stays English Speaking?
Yes, they are all English Speakers.
What happens on a Sunday when there is no organised activity?
Sunday is a relaxation free day, we ask both families and students to spend at least half the day together taking part in the normal family routine, students are also free to meet up with friends but must stay in Malahide/Portmarnock.
Can friends be together in their homestay and on activities etc ?
Yes, just note it at the time of booking as a special request.
Do you cater for special diets?
Yes we can cater for special diets just check with us pre booking and sometimes a supplement will apply.
Can my child take a taxi from the airport to the host family directly if we don't opt for the airport transfers?
Yes, this is your choice. We would however advise all children to have our airport transfer service meet them at the airport for safety reasons. Also Immigration at Dublin Airport states that all children under 18 years of age should have someone to meet them at Dublin Airport.
Can I drop my child to the host family directly?
Yes, we will coordinate a time between you and their host.
What kind of certificate will my child receive at the of the course?
Your child will receive a certificate of attainment and attendance and also a individual teachers report on their progress.
View Brochure