Covid Update
Due to Covid-19 Restrictions all our adult classes are currently online until our premises can reopen. Full-Time, Part-Time Evening Classes, and One-to-One Coaching are now available online. Online Courses
Academic Year Programme
At the Irish College of English, we offer English Academic Year in Dublin at our Malahide School. The Irish College of English is recognised by ACELS, a service of quality and qualifications Ireland, for English Language Education. Students can register for our Academic Year Programme at any time. We have an excellent mix of nationalities in all our programmes. We also operate Learner Protection through our membership of MEI.
Your Fluency Starts Here!
At the Irish College of English our adults get special attention, at any time we limit the number of adults to 60 students hence offering a boutique type school where individual needs can be met and progress monitored. We also ensure an excellent mix of a nationalities making for a rewarding experience.
Perfect Location
The Irish College of English has been in the heart of Malahide for over 25 years. Situated on Dublin's coastline, Malahide many attractions include Malahide Castle, a Beautiful Seaside Village, Marina, Coastal Walks. Our location offers students the best possible experience of Dublin. Students enjoy Dublin City's highlights while living in a vibrant authentic area of Dublin meeting and socialising with Irish people.
Accommodation
Students can initially choose to stay with one of our host families for a few weeks while they look for a house share or apartment in the locality. Our home stays are carefully selected families in Malahide in single rooms and all students can walk to school. We guarantee one nationality per family unless otherwise requested. Our Families are the highlight of the experience and have quality assurance procedures in place, ensuring great stays for all our students.
Enrolment Dates
We have flexible enrolment dates from 6th Jan to 19th Oct. Just email us for more information.
Award Winning School
We are delighted to be voted 'Best Language School in Ireland 2019' by students based on Google and Facebook ratings. Uniquely this Education Stars Award is based on student ratings only. We also have been shortlisted for 'Best Language School' in The Irish Education Awards 2020. In addition we were the First language School in Ireland to be ever shortlisted for the Study Travel Magazine Star Awards –Junior Course Under 18's Global Industry Award in 2015 and were again shortlisted in 2016. 2017 and 2019. We were also shortlisted for English Language School Europe in 2017 and 2019.
We have also been honoured by Malahide Chamber of Commerce in 2014 with the 'Service Excellence Award' for a clear demonstration of excellent and consistent customer service and in 2016 we were honored with the 'Organisation of the Year' Award.
Course Options:
Acedemic Year Programme: General English + IELTS
Academic Year Programme: General English + Cambridge
Adult Courses Photo Gallery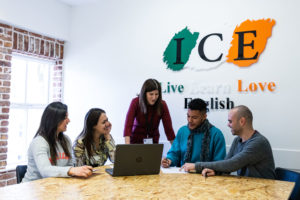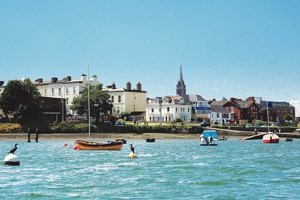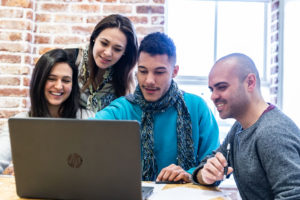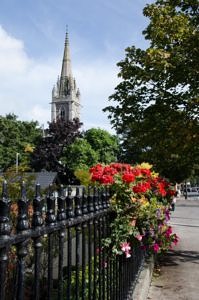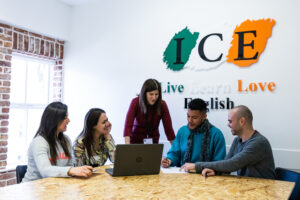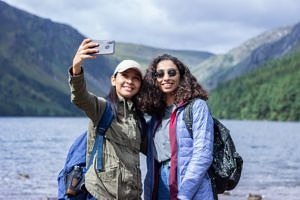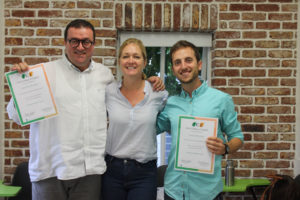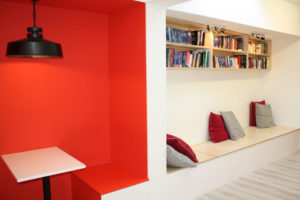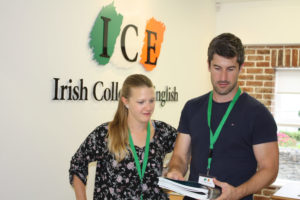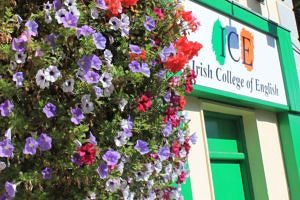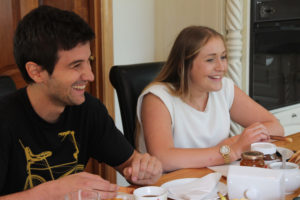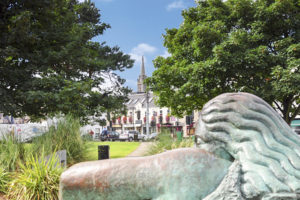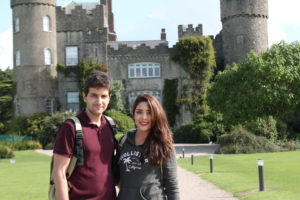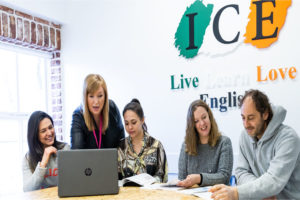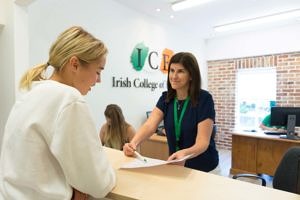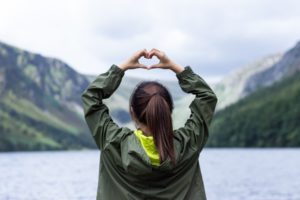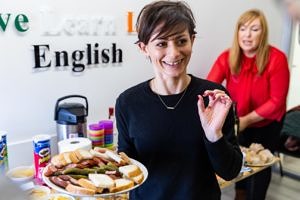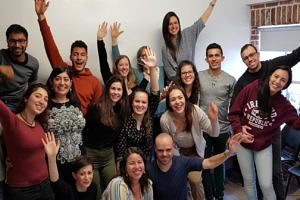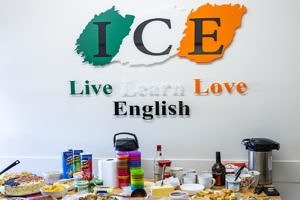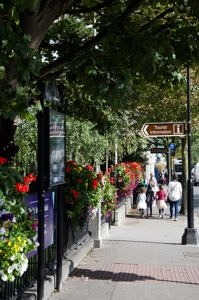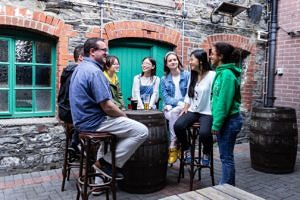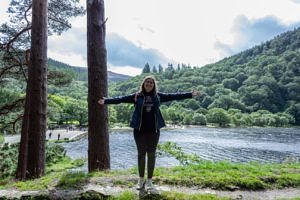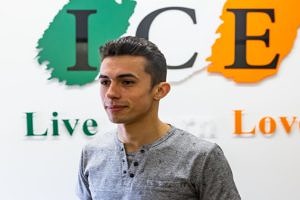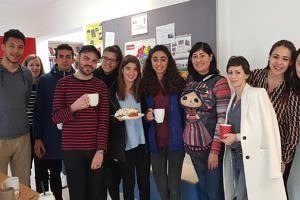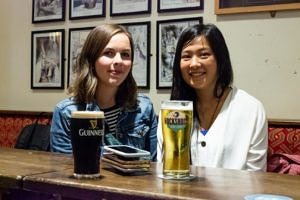 Academic Year Enrolment Calendar 2021
January 4 – First Date for Academic Year Programme enrolments
October 18 – Last date for Academic Year Programme enrolments
December 13 2021 to December 31 2021 – Christmas Holiday
Class Timetable:
9.00am to 12.15pm, Monday to Friday
Sample Timetable
15 hours English Tuition per week: Mon – Fri 9.00am – 12.15pm

Free Coffee/Tea Break from 10.30 – 10.45am

Free Conversation Class Once a Week

Optional Afternoon Pay as You Go Tours/Trip with Free Irish Activity Leader

Evening Pub Social Meet up Once a Week

Saturday Optional Full Day Tour
What's included?
Tuition
We have a specially designed Adult Syllabus to encourage your  progression and confidence with an emphasis on building fluency. We believe in real materials and growing to love the language by living it. Classes are international and have a maximum of 15 students per class. 15 full hours tuition per week. (Classes 9.00am – 12.15pm each day with a 15 minute break). 
Accommodation Option
Our accommodation is in homestays in Malahide in walking distance of our school. We guarantee one nationality per family unless friends wish to stay together. Our hosts typically take 1 or  2 students at a time and all our adults have single rooms. Families will do student's laundry as part of their normal home routine. We carefully match students with families. Families provide breakfast, packed lunch and evening meal. Meals are nutritious and we can cater for special diets on request. On arrival we also give students a welcome pack including a reusable water bottle and our school has a water refilling station. For more information on accommodation options see our accommodation page.
Weekday Activities
Students have access to our weekly Optional pay as you go activity programme. We provide a free leader to bring you on our afternoon trips and you pay for your travel  end entrance fees.
Evening Activities
Every week we have a designed pub night where students can meet each other on a social night out.
Full Day Trips
Each Saturday our students have the opportunity to book a full day trip. Sample Day Trips: Glendalough, Kilkenny, Belfast, Cliffs of Moher etc
Free Conversation Class
Our Conversation Classes are free of charge for our enrolled students.
Travel Card
Students attending a full time course can apply for a Dublin Discount Travel Card
Student Report & Certificate
Students receive a Certificate of Attendance and Attainment at the end of their course and also an individual hand written teacher report on their progress.
Academic Focu

s
The main focus of these intensive English courses is on Rapid Learning for Communication in Spoken and Written English. Our highly qualified English teachers set students clear learning objectives and use the latest modern teaching techniques to provide language practice in speaking, writing, listening and reading, to improve English pronunciation, grammar and vocabulary. These English language classes also include an Irish Culture Component, which covers Irish language, traditional music, history and culture. These special English lessons will provide those students learning English in Ireland with a better knowledge of the local people and culture, enabling them to become more actively involved with the unique Irish way of life. Read more about our English Courses in Dublin.
Work and Study in Ireland
Students Requiring a Study Visa to Work and Study in Ireland: Our courses are also suitable for non-EU students requiring study visas to enter Ireland. The Irish College of English can assist students with study visa applications and will issue a letter of acceptance upon registration. We will also issue you a College Letter needed to apply for the right to work in Ireland. Our Academic Year Programme (25 weeks tuition within an 8 month study period) are included on the Department of Education and Skills Internationalisation register of programmes approved by the Minister for Education and Skills for the purpose of access to employment by students from outside the EU/EEA and Switzerland. Read more Work and Study in Ireland Visa Regulations. See The Department of Justice Website for more detailed information on Study Visas.
How to Book
Book Online now or fill out our Adult Booking Form or email us at info@iceireland.com.
More Information:
Working in Ireland
Non EEA/EU students are eligible to work 20 hours per week during the complete duration of their stay. Students are granted permission to work 40 hours per week providing they are on a holiday period from lessons during:
December – January
May – August inclusive
Holidays
Non EEA/EU students are allowed an 8 week holiday period providing they have booked a course for a minimum of 25 weeks in duration completed within an 8 month study period, 15 hours per week, 09.00am – 12.15pm, Monday to Friday.
Students must have studied for a minimum of 8 weeks before taking any holidays.
For every 3 weeks studied students can take 1 week of holidays.
Students that are undertaking a course which runs through the schools closure period during December will automatically be assigned a 4 weeks holiday period.
Attendance Levels
As part of their visa requirement students are obliged to have a minimum attendance rate of 85%.
Attendance will be recorded on a daily basis and students will need to sign into and out of the school each day.  If students are more than 15 minutes late for class or if they leave class more than 15 minutes early their attendance will not be counted for that day. Students will sign in and out of the school each day with Ian McElhinney. The class teacher will also keep an independent record of attendance for cross reference.
The attendance records will be reconciled on a weekly basis by Ian McElhinney under the supervision of the Director of Studies Dee Doyle. Students who have an attendance of less than 85% will be issued with a warning letter. 
Sick Leave
Students must inform the school by email (info@iceireland.com) on the first day of illness if they are too unwell to attend lessons. Students that are absent for more than 2 consecutive days due to illness must provide the school with a medical certificate justifying their absence. The medical certificate should be scanned and emailed to the school or presented on the first day back. Attendance will not be applied during any sick leave period but a record will be maintained of all explained absences.
Students that are absent due to illness but fail to provide a medical certificate, risk their attendance levels dropping below 85% and may be issued with a warning letter or expulsion depending on their previous status. 
Unscheduled Leave
To request unscheduled breaks students must, where possible, meet with the schools Director of Studies to discuss their individual circumstances and their requirement for a break from scheduled lessons. If the student is incapacitated or hospitalized an email from the student or a relative will be considered. In every case the student must provide evidence of illness or bereavement for a break to be considered.
Unscheduled breaks will be considered under the follow circumstances:
Illness of a family member who is certified by a medical practitioner as requiring constant care and attention for the period of recuperation from the illness.
Bereavement involving a family member.
Requests may be refused if the Director feels the request is disingenuous, no evidence of the illness of bereavement has been presented, the students attendance levels are below 85%.
All requests for leave whether approved or declined will be recorded on the students file.
Absenteeism and Expulsion
Ian McElhinney is responsible for the issuing of all warning letters.  Warning letters will be sent my regular post and by email. Students are expected to inform the school of any changes to their address while in Ireland.
When a student's attendance initially falls below 85% , the school will issue students with their first warning letter, students will have 4 weeks to:
(a) bring their attendance up to a minimum of 85% or
(b) if this is not possible they must attend 100% of their lessons
Failure to comply will result in the student receiving a second warning letter and must have a meeting with school administrational staff. Again the students will have 4 weeks to:
 (a) bring their attendance up to a minimum of 85% or
(b) if this is not possible they must attend 100% of their lessons
Failure to comply will result in the student receiving a third warning letter and a meeting will be held between the student and the schools Director of Studies. The students will have 4 weeks to:
 (a) bring their attendance up to a minimum of 85% or
(b) if this is not possible they must attend 100% of their lessons
 Upon breach of this written and verbal warning, the student will be expelled from the Irish College of English, a letter will be sent to GNIB informing them of the students' failure to come to class, the breach of their visa obligations, and the expiration of their course and medical insurance.
Exam
Non-EU students must complete an official examination at the end of the programme. Students taking the Academic Year Programme will prepare for the TIE exam and sit the exam in the final week of their course.
The Academic Year TIE Course will end with an examination in TIE (www.tie.ie). The TIE exam is an international EFL exam developed in Ireland under the aegis of the Advisory Council for English Language Schools (ACELS). The test is task-based with the content chosen by each individual learner.
Students enrolled on The Academic Year TIE Course are obliged to take the TIE examination at the end of their course. The fees for the TIE examination must be paid prior to arrival in Ireland and commencement of the course.
During the students first week of arrival the student will meet with Ian McElhinney and sign an agreement at the beginning of the programme stating that The Irish College of English will enter the student for the end of programme exams and that the exams are mandatory. The student must sign the agreement stating that they understand the exam is mandatory and agree that they will sit the exam.  During this meeting an examination date will be chosen and the students will be registered for the exam.
Students will be contacted by the schools administrational staff reminding them of their exam date and time of examination 4 weeks in advance of the examination date.
The school will receive the examination results approximately 2 weeks after the examination date. The school will inform the student by email that their exam results are ready to be collected. If the student has already left the country the certificate and results will be sent by PDF email and the originals will be posted to them. A record of grades received will be available on request to students, INIS and relevant internal personnel and the relevant data protection permissions are agreed with students accordingly.
Insurance
Students requiring a student visa must have adequate medical insurance to cover their stay in Ireland. The policy must be in English. The school can arrange medical insurance before a student arrives or on arrival. Cost €65. This policy satisfies the requirements of the Irish Immigration officials.
Protection for Learners
If required the school has arrangements in place for the protection of students in the event that a programme ceases prematurely i.e. arrangements for a student to complete the programme with another provider(s) through membership of Marketing English in Ireland (www.mei.ie) . Student protection arrangements cover the period from when a student enrols on a programme until the time the student has successfully completed the programme and the end-of-programme exams.
Student Refunds
There is no refund for a cancellation made within 21 days of the commencement of the course or if a student fails to complete the programme.
Deposits are non refundable in all circumstances.
Partial Refunds will be made where notice is given more than 21 days prior to arrival. This partial refund is as follows – deposits are non refundable, the remaining tuition fees will be refunded. Where host family accommodation has been booked, an additional 100 euro will not be refunded in order to compensate families.
There is no refund for students who change from Intensive to other courses of lesser hours.
There is no refund for fees of days missed during the course, for late arrival or early departure or for public holidays.
Refunds will be made within a maximum of 20 working days following the cancellation date and processed by Deirdre Rochford drochford@iceireland.com. If a visa application is refused, the funds will be returned within 20 working days of the decision being received by the provider, less cancellation charge of 200Euro
Complaints and Grievances 
If students have complaints or grievances they should report them to the office immediately.
This includes (not exclusive list);
Host family /accommodation problems
Class issues (level/teacher/other students/ timetable/course duration/final examinations etc
The person responsible for dealing with these complaint is Susan McElhinney info@iceireland.com . The Irish College of English aims to resolve all complaints or issues within 48 hours and a maximum period of 7 days.
School Emergency Phone Number: 00 353 85 706 5937
Accreditations 
View Brochure and Prices